As seen on network and cable television from coast to coast…The Ghost Doctors
Dr. Pete and Dr. Stew Kandel aka the "Ghost Doctors" have found something strange going on in the neighborhoods of New York City.
These are not your typical run-of-the-mill storytelling ghost tours where you'll listen to some humdrum spooky little ghost tales…this is the Real Deal!

Who Ya Gonna Call For NYC Ghost hunting tours?
The Ghost Doctors
​Long time natives of NYC, these intrepid Ghost Hunters / Paranormal Investigators and licensed NYC Sightseeing guides Dr. Pete & Dr. Stew Kandel aka the Ghost Doctors have scoured the streets of this amazing city and unearthed the paranormal underbelly of the Big Apple. Discovering ghostly orbs and apparitions, actual voices from beyond (Electronic Voice Phenomena) to the detection of EMF (electromagnetic fields) from wraiths and phantoms that pass in the night.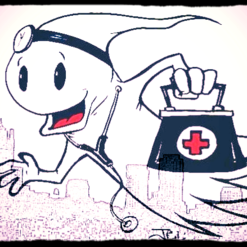 So if a paranormal adventure is on ones to-do list this year…join NYC's own Ghost Doctors on one of their Supernatural adventures and experience the real New York -the paranormal New York – with those noted paranormal investigators…the one and only
"Ghost Doctors."
The Adventure Begins…
as you discover the fundamentals of ghost hunting including the workings of a variety of authentic ghost hunting equipment (EMF meters, infrared night vision, Geiger counters, dowsing and a whole lot more). All the while, embarking on an amazing paranormal exploration through some of NYC's most iconic landmarks.
Check Out The Ghost Doctors At The Ghost Busters Building!
Ghost Hunting Tours in The Metropolitan Museum of Art
click above for upcoming dates

Ghost Hunting Tours in Grand Central Terminal
click above for all upcoming dates
Ghost Hunting Tours In The American Museum Of Natural History
Next Hunt Sunday 8/5/18
click above for all upcoming dates
Ghosts Hunting Tours of Central Park
Next Hunt Saturday 7/21/18
click above for all upcoming dates
Ghost Hunting Tours in the 1939 & 1964 World's Fair Grounds NYC's Flushing Meadows Park
click above for all upcoming dates
A Summertime Adventure! Ghost Hunting Tours in Southampton NY
click above for all upcoming dates
UFO Phenomena Tours In NYC's Hayden Planetarium/Rose Center For Space and The American Museum of Natural History
click above for all upcoming dates
Dr. Pete Out On An Investigation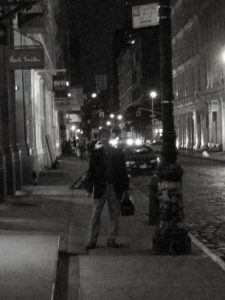 "Ghost hunting requires a lot of background research into the history of the location that's
being investigated," says Dr. Pete. And along with Dr. Stew who are licensed NYC Sightseeing guides
definitely show their ability to gather such historical data, exhibited by their
vast knowledge of the various locations they have investigated.